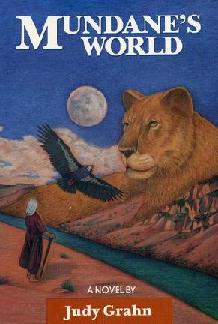 Publisher:

Crossing Press

Published:

November 3, 1988
Editorial Reviews
From Publishers Weekly
Here is a rare and compelling first novel about five girls' special passage into womanhood. These protagonists, all residents of "Mundane," the city of dreamers, are of?pk from four clans that peacefully coexist: the Snake clan, famous for healing and balance, the Bee clan, of water-bearing women and the keeping of measurements, the Lion clan, of animals, movement, transportation and trading, and the Tortoise clan of farming, provision, distribution and record-keeping. This well-written tale of spiritual transformation from a woman's point of view is composed in a poetic style, capturing the tribal rhythm of rituals and of day-to-day living. A lyrical whimsy informs the narrative: "It was certainly a hum drum society, it was so hum drum, ho hum, dum dedum, dum deedle deedle tweedle dum, humming and drumming, every good time was a clap trap." Though the story is told mainly through the eyes of two characters, Ernesta and Jessi-ma, animals, plants and insects contribute their perspectives: "Spiraling high into the sky for a change of air the fly can see if he is looking that there are four wider streets in the city." Poet Grahn is author of Another Mother Tongue."
Copyright 1988 Reed Business Information, Inc.
From Library Journal
Grahn's creativity and detailed descriptions of mundane animal, plant, and human activities, immerse us in an imaginative prehistoric world centered around women. In this mythical and ritualistic world, clans are interdependent and interconnected by a mutual knowledge of natural powers and by their most powerful image, "Ana"a woman of many faces, names, and a large body. Mundane is a city where women dream their children from stars, domesticated plants, people, and wild bushes. In this world, the plant and animal kingdoms communicate with each othereach regarding the other as an equal with respect for the usefulness of each other's roles. A fascinating and delightful first novel for Grahn, author of several published poetry collections. Jeris Cassel, Rutgers Univ., New Brunswick, N.J.
Copyright 1988 Reed Business Information, Inc.
From The Trumpeter: Journal of Ecosophy
 Ron Erickson, professor of environmental studies and environmental ethicist,
wrote a review of Mundane's World, published in
Trumpeter, Vol 9, No 1 (1992)
Read entire review at:
http://trumpeter.athabascau.ca/index.php/trumpet/article/view/448/739